PFALZSOLAR BUILDS PV POWER PLANTS ON DUTCH LANDFILL SITES
Ludwigshafen , 19.06.18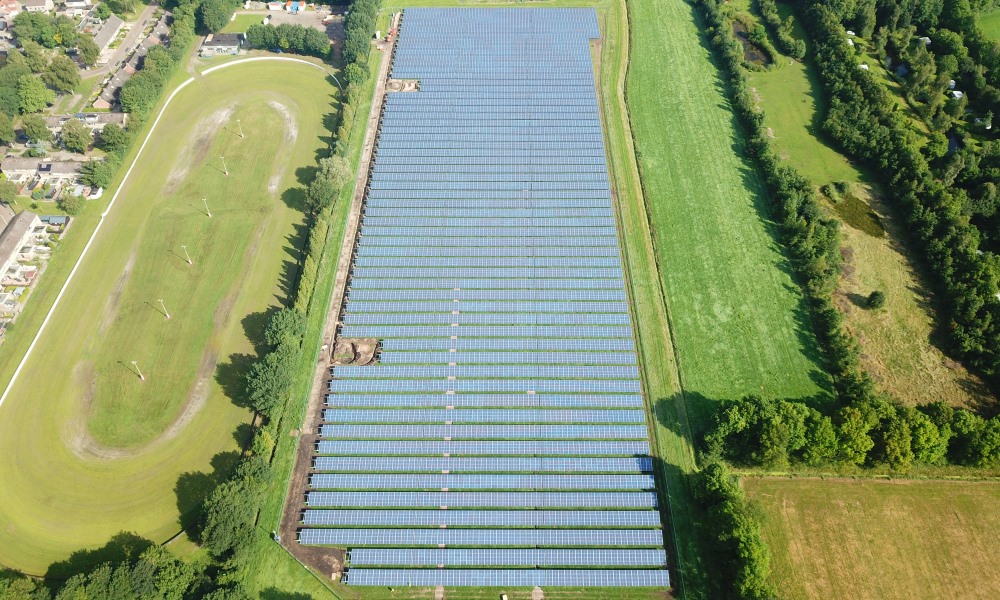 Solar power from disused landfill sites is the result of a real win-win situation for landfill site operators, PV power plant operators and, of course, the environment. In Germany, numerous waste management companies have already invested in solar energy with the aim to make the after-closure phase ecologically sustainable and economical at the same time. The
HVC Group
, one of the largest waste management companies in the Netherlands, is also acting according to this principle together with its partners Afvalzorg and Sortiva. PFALZSOLAR recently won an international tender initiated by HVC and will soon realize two PV power plants with a total capacity of 5.6 Megawatt peak (MW
p
) on disused landfill sites.
PFALZSOLAR received the order for a good reason: The 100% subsidiary of the Pfalzwerke AG, one of the largest energy providers in the South-West of Germany, has planned and constructed many solar power plants on disused landfill sites in the past few years. Like this, the German project developer and EPC could constantly enlarge its know-how in this field. "PV power plants on former landfill sites always have to fulfill distinctly higher requirements than solar parks on other free fields. Especially the mounting system has to be planned carefully with regard to the special soil conditions," explain Jürgen Hampel and Johannes Wolffram from PFALZSOLAR, who are responsible for the project management of both new installations. Usually, there has to be a mounting system that causes absolutely no damages of the landfill-coverages – just like in the case of the two landfill sites. In Boekelermeer (North-Holland), the PFALZSOLAR team is ready to go: Around 8,000 solar modules for the first power plant with a capacity of 2.3 MW
p
shall be installed until the end of August. In Wieringermeer (North-Holland) the second power plant with a capacity of 3.2 MW
p
will be completed only a few weeks later. Together, both installations will produce annually around 5.6 million of environmentally friendly solar energy and save nearly 3,000 tons of CO2 each year, compared to non-regenerative ways of energy generation.
Maarten Meijer, the responsible project manager at HVC, is content about working together with PFALZSOLAR: "For us it was on the one hand very important to find a partner who has a relevant track record, all necessary certifications and who enables an economic realization of the projects. On the other hand, we were also looking for a project partner with whom we can work together on an equal footing. With PFALZSOLAR, we're well prepared to extend our renewable energy portfolio." HVC has already been investing a lot in renewables in the past years. Apart from PV power plants, the company also operates, among others, wind farms and geothermal power plants.
Besides the two PV power plants on former landfill sites, PFALZSOLAR is currently also realizing two more ground-mounted power plants and four large PV rooftop installations with a total capacity of 16 MW
p
in the Netherlands. Amongst those, the largest project is 4.2 MW
p
PV rooftop power plant on a logistics hall in the province of North-Brabant. This installation is an extension of a 2.2 MW
p
PV system that has been completed by PFALZSOLAR in 2017. "Our projects in the Netherlands are still getting bigger. Last year, we've mainly built rooftop systems with capacities of less than one MW
p
. The growing project size reflects the general development of the Dutch PV market which is still on a remarkable growth track." explains Jürgen Hampel.  To fulfill the Dutch requirements and standards, PFALZSOLAR recently went through a certification process for its "Occupational Health & Safety Management" (OHSAS 18001 ), additionally to the already existing certifications for Quality and Environmental Management (ISO 9001 and 14001 ). "We assume that the Dutch PV market will constantly grow in the next few years. Being certified in all relevant areas means that we can join the Dutch in pushing forward the energy transition." says Hampel.
Photo: PFALZSOLAR | Solar park Noordwolde, 4 MW
p
, Netherlands